Pony Smokey a Loyal American Pharoah Sidekick
Former NRHA competitor keeps Triple Crown contender grounded.
By Joe DePaolo
Shortly after 8:30 a.m. EDT on June 4, Triple Crown hopeful?American Pharoah??made his way out to the?Belmont Park?main track. While all attention was focused on the 3-year-old poised to make history in the Triple Crown, another horse Bob Baffert calls a star walked nonchalantly alongside the champ.
His registered name is This Whiz Shines, a 6-year-old buckskin gelding who is known as "Smokey" around the Baffert barn. As American Pharoah has traveled between?Churchill Downs,?Pimlico Race Course, and Belmont over the past six weeks, this faithful companion has been there every step of the way.
"It's pretty cool to see," Baffert remarked. "When Pharoah pulls up, there's Smokey and Pharoah walking together?the two stars of the barn."
All eyes at Belmont might be on American Pharoah, who two days from now could become the first horse since Affirmed in 1978 to win the Triple Crown.?But his steady sidekick has captured Baffert's heart as well. Like many other horses known as "ponies" at the racetrack, it is Smokey's job to accompany American Pharoah and Baffert's other top horses from the barn to his morning training and back, keeping them focused and calm with a reassuring presence.
"Smokey's my favorite horse in the barn," Baffert said.?"It's sort of cool to see him out there before the races start… we rub his forehead for luck."
Baffert showing off @SmokeyThePony #smokeywatch2015 #BelmontStakes pic.twitter.com/mvj2d2e6pa

— Claire (Novak) Crosby (@BH_CCrosby) June 5, 2015
More than 1,700 miles away from Belmont in the town of Bayard, NE (population 1,209), the man who sold Smokey to Bob Baffert recalled the horse he knew as This Whiz Shines with similar affection.
"The horse had tremendous ability," said Dan Twombly, owner of Twombly Performance Horses. "Really athletic. Really easy to get along with. Absolutely gorgeous."
Twombly has had a longstanding relationship with Baffert; the trainer has purchased a number of his horses over the years.
This one did not come cheap. Baffert spoke Thursday morning about watching a video of Smokey as a performance horse competing in the National Reining Horse Association's 2012 NRHA Futurity. He was very impressed with the footage.
"Now I know why he cost so much money," Baffert joked.
Baffert appreciates Smokey's easygoing nature around the barn, and the way he gets along with his 10-year-old son, Bode.
"He seemed really sweet," Baffert added. "Quiet. Nice eyes… I wanted something gentle (for my son) Bode; I wanted him to start riding. So I wanted to find a horse that's quiet. We call him bomb proof."
Twombly recalled Smokey's docile nature even when confronted with some rough Nebraskan terrain.
"We ride the hills and see deer, and coyotes, and rattlesnakes," Twombly said. "And we feed with four-wheelers and tractors. And we expose him to a lot of other things that he hasn't seen before. But he was always super-quiet. Gentle. Really athletic… Anything you wanted to do on that horse, he had the mind and the ability to do it."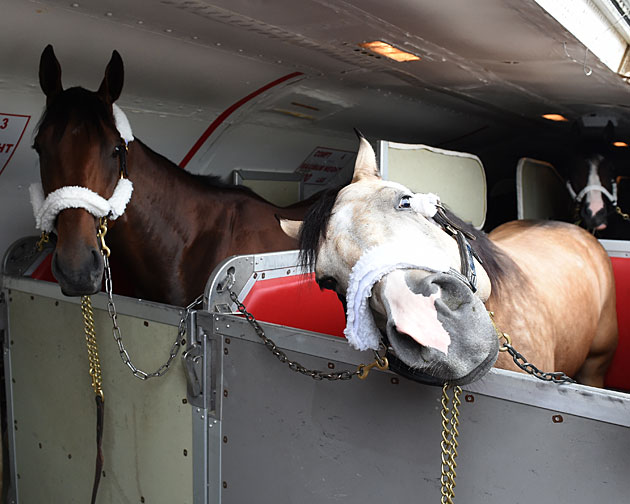 Baffert is so taken with Smokey that even at the height of Triple Crown mania, he took time out of his schedule to write to Twombly to express his thanks for the horse who is now recognized not only by others on the racetrack, but by the press corps and by his own growing circle of fans.
"We were pretty amazed, two days after he won the Kentucky Derby, he emailed us and told us how popular Smokey was, and how much he liked him, and how good he's getting along," Twombly said. "He's told us that before, but we were pretty amazed that two days after the Kentucky Derby, he emailed and told us about our horse."
Twombly, who runs his operation with his family in Bayard, said that everyone around the place has been following American Pharoah's Triple Crown chase. They've been able to catch glimpses of Smokey during television broadcasts, as Donna Barton-Brothers of NBC rode him in the Derby and Preakness while conducting her interviews with jockeys out on the track. She'll be atop Smokey again on Saturday from Belmont Park.
And during those last few moments leading up to the race, Dan Twombly predicts that activity at Twombly Performance Horses will come to a halt.
"I'm sure work's going to shut down here, and we're all going to be in front of the TV," he said with a laugh.
Great horses come and go. Runners like American Pharoah?whose racing career beyond Saturday will be the subject of much speculation should he win the Triple Crown?those kind don't stay with Baffert indefinitely. But loyal stable ponies like Smokey, well, they tend to hang around a little longer… until their whiskers turn gray and they live out their days in peaceful retirement.
"These stakes horses, we're with them for a year or two," Baffert said. "But Smokey's always going to be there."
Watch This Whiz Shines, Aka Smokey, Compete in the 2012 NHRA Futurity